Surveillance & Comms 4x4 (1)
Do you need to:
Deploy surveillance systems at remote locations, far away from existing infrastructure?
Stay ahead of your target by moving a surveillance station around rapidly?
Cover large events at short notice?
Desert Wolf's range of rugged, go-anywhere trailer platforms for mobile surveillance is the solution. All models are equipped with Desert Wolf's legendary off-road trailer chassis and air suspension to protect your valuable electronics on any terrain. The Desert Wolf trailer load bins are manufactured from stainless steel for everlasting durability, even in harsh coastal environments.
We supply and install an extensive range of telescopic masts, sensors, power sources and communication & control systems, designed to cater to any need. We will gladly fit any components supplied by you - we are open to customization and committed to assist clients with their complete system integration requirements.
See far and wide Add height to your sensors and antennae by mounting them on top of a telescopic mast. These rapid deployable masts with pneumatic operation and effective tilt systems are available in lengths of up to 40m, with payloads of up to 100kg. Mast mounting and storage brackets are incorporated with the mobile platforms. Custom brackets for mast-mounted equipments and cable handling can be designed.
Observe every detail
Desert Wolf's mobile surveillance platforms can be used to mobilize your existing sensors, or you may select an appropriate item from our range of FLIR infrared and day sensors, and high-accuracy radars.
Any sensor can be included as part of the solution. Lights and high powered strobes are popular additions. All equipment can be mounted with remote-controllable pan and tilt functionality and automatic scanning.
Take Control
View the images and real-time streamed video wherever you are and control the complete unit remotely. Start the generator, monitor voltage levels, or communicate to bystanders via speakerphone... the options are endless. Connect a sensor feed to a fixed or mobile control room and manage it as part of an existing system. Available options include microwave, radio and satellite communications.
Self-Protection
A powerful mobile surveillance station is always a target. Safeguard the unit against vandalism with full monitoring of the environment via video, door-opening and movement detector sensors. Activate warning voice commands and pepper spray systems automatically or on demand. Add physical security with remote controlled electric fences around the mobile unit.
Power Solutions
Be independent when away from the grid for as long as required. Our mobile units are powered by generators, solar panels or wind generators, suitable to the environmental condition. A unique power solution is designed for each unit based on the power load and voltage requirements. Batteries and fuel tanks are added for energy storage and units can operate completely unattended for weeks on end.
Sub-categories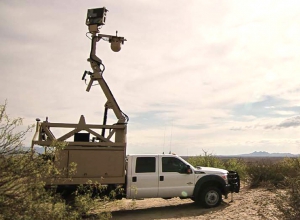 Do you need to: Deploy surveillance systems at remote locations, far away from existing infrastructure? Stay ahead of your target by moving a surveillance station…