RUNNER-UP
DESERT WOLF CONSULTING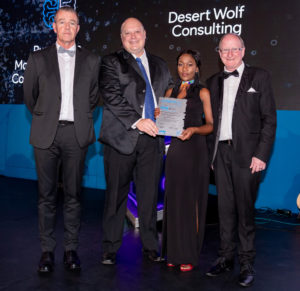 Mathabo Kamohi and Carl von Graszouw receiving the certificate
Judges Comments:
For being 51% black-owned by the long-term workers of the company, these employees are fully empowered to take decisions in the direction and planning of the company

EMPOWERED STAFF JOIN THE FAMILY
Following many decades of good working relationships with their staff, Desert Wolf Consulting has committed to transforming the business. Since making this commitment it has transformed from a wholly whiteowned family operation to a 51% black owned business where workers hold the majority shareholding.
With many workers having been employed by the company since inception, staff have been empowered to take ownership of quality, productivity, safety and long-term planning as well as share in the profits and gains of the company.
Source: https://sassda.co.za/most-transformed-company-awards/