WINNER
DESERT WOLF CONSULTING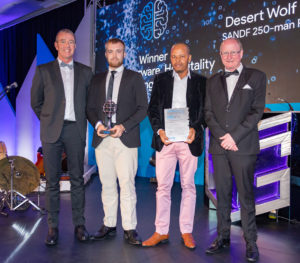 Arie Kieser and Simon Mtshweni receiving the award
Judges Comments:
For designing a brilliant, novel, mobile bush catering solution, using only diesel, and utilising sophisticated 4th Industrial Revolution technology

MOBILE KITCHEN SHOWS THE STRENGTH OF STAINLESS STEEL IN THE TOUGHEST TERRAIN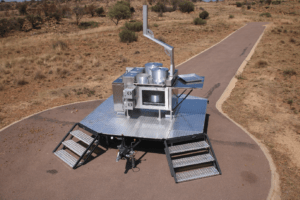 A reputation for creating some of the world's toughest off-road trailers, manufacturer and exporter Desert Wolf Consulting is a preferred supplier to the South African National Defence Force for its diesel cooking burning technology. Its Boma 250-man Field Kitchen is a tour-de-force.
With its unique design, together with its significant stainless-steel component, the development of their smokeless diesel burners has allowed portable kitchens to be independent of difficult to access LPG gas supplies. With no diesel stoves with the required capability available on the market at the time, the rugged Desert Wolf BOMA 250- man 4×4 mobile – and smart kitchen – was born.
Powered by a tablet, it seamlessly links planned menu's with ingredient orders from the army stores and provides for a range of menus. Burning cleanly with no smoke emissions, its unique design allows two chefs to stand opposite each other rather than side by side, resulting in better work flow with access to the oven and frying surface.
Its diesel fired technology is now being implemented in the new SANDF 50 and 200- man containerised field kitchens will form the heart of military kitchens featuring uniquely South African designed technology.
Source: https://sassda.co.za/consumerware-hospitality-catering/