The mining business sector has benefited from many products from Desert Wolf's large product range. Products like the company's large range of surveillance and communications trailers as well as the emergency services products have proven their worth in a competitive and demanding industry.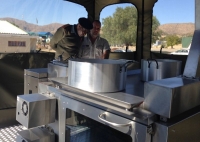 The Desert Wolf BOMA 250+ man diesel-fired field kitchen uses…
Read more...
The Skunk Riot Control Copter is designed to control unruly crowds without endangering the lives of the protestors or the…
Read more...
The Desert Wolf surveillance canopy has been developed so that it can be fitted to most 4x4 double cab vehicles.…
Read more...