Desert Wolf has been consistently growing its product offering to the agricultural sector. The range started off with rugged and versatile off-road trailers and tankers and now includes highly sophisticated drone based crop and livestock analyst.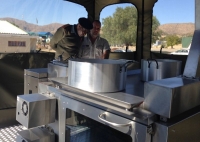 The Desert Wolf BOMA 250+ man diesel-fired field kitchen uses…
Read more...
The Mozzy Wildlife Darting Copter is based on the Desert Wolf Skunk Riot Control Copter and has been developed to…
Read more...
Mobile workshops and toolboxes in durable stainless steel
Read more...